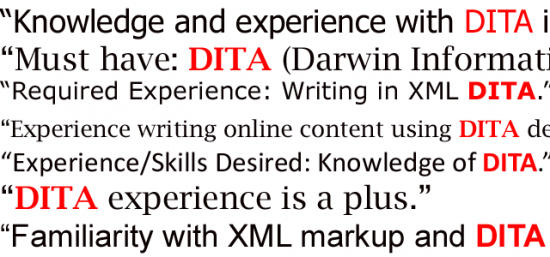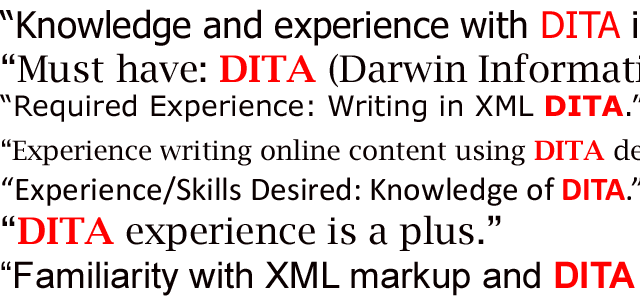 In a previous article I looked at job descriptions for Technical Writers where "DITA" was mentioned and found that they comprised about 4% of all such jobs in the United States. That number is significant given that FrameMaker is mentioned in 10% of all such Technical Writer jobs listed on the Indeed.com site, given that it has been the tech writer's tool of choice for decades.
There are other questions that come up from this type of survey, such as:
In what context does "DITA" appear in these job descriptions?
What types of firms are doing the hiring?
Is it just "Technical Writer" jobs where DITA experience is needed?
For the answers to these questions, read on.
DITA in Context within Job Ads
DITA has not been around as long compared to many of the typical tools of the trade, including FrameMaker and Word for example, so it shouldn't come as a surprise that many of the job ads find DITA a desirable skill, but not necessarily a requirement. The two phrases that come up in the most recent set of job listings for "Technical Writers" + DITA on Indeed.com are:
"Experience writing online content using DITA desired, but not required."
"Experience/Skills Desired: Knowledge of DITA."
"DITA experience is a plus."
"Familiarity with XML markup and DITA an advantage."
So presumably at these firms DITA is either being used or is at least being thought about seriously, and the expectation is that a new hire ought to be able to pick up the skill.
DITA is often only one component that potential employers are looking for in a skilled Technical Writer. Often the names of other specifications or tools are mentioned in job descriptions:
"Experience with HTML, XHTML, CSS, DITA, and content management systems (CMS)."
"Knowledge of structured FrameMaker, XML, DITA, XSLT, HTML, JavaScript, MySQL, and Perl is a desired."
"Solid understanding of DITA, CMS, XML, topic based authoring, and working in a content management system."
"Working knowledge of RoboHelp, Captivate, MadCap Flare, and/or DITA/XML authoring tools."
When DITA is mentioned along with other tools and standards, the terms that come up the tend to be "single-sourcing", "FrameMaker" and "Content Management System (CMS)". The last two terms are often mutually exclusive, so that if FrameMaker is mentioned, experience with a CMS is not, and vice versa. This is not universally the case though I think the following line from a Technical Writer job says all that needs to be said: "Currently, [company name] uses FrameMaker to author documents but we are transitioning to an XML-based authoring system". It is rare that specific DITA CMSes are mentioned by name, but the few I have seen mentioned include the systems by Astoria, Ixiasoft and SDL.
Make no mistake though, there are some employers where DITA knowledge or experience is expected; some typical phrases that come up:
"Knowledge and experience with DITA important."
"Must have: DITA (Darwin Information Typing Architecture)."
"Required Experience: Writing in XML DITA."
I think it is clear at this point that having some knowledge of and especially experience with DITA is becoming an increasingly important job skill for technical writers to have. While we are still clearly at a point in time where DITA knowledge is not an expectation, but for those technical writing jobs where it is being asked for, it may be that "little bit extra" that makes the difference between getting hired or not.
Who is Hiring?
I compared the Technical Writer job listings against my list of Companies using DITA. While there are a number of job placement firms out there who are seeking applicants on behalf of an unnamed client, most of the firms that directly place a job ad looking for tech writers with DITA knowledge are present in the list (and those that are not I am keeping a watch on for future developments). Here's a short list of companies currently (as of January 2013) looking for Technical Writers with some knowledge or experience with DITA, along with the industry sector they belong to:
Acme Packet (Telecommunications)
AGCO (Machinery)
Allscripts (Computer Software)
Amazon (Internet)
Blizzard Entertainment(Computer Games)
Brocade Communications (Computer Networking)
Elekta (Medical Devices)
InfoPros (Information Technology and Services)
Mentor Graphics (Computer Software)
MIB (Nonprofit)
National Instruments (Electrical/Electronic Manufacturing)
NetApp (Information Technology and Services)
ngmoco:) (Entertainment)
Nokia (Telecommunications)
Oracle (Information Technology and Services)
Pentaho (Computer Software)
Riverbed Technology (Computer Networking)
salesforce.com (Internet)
Siemens Healthcare Diagnostics (Hospital & Health Care)
Sonics (Semiconductors)
Techprose (Management Consulting)
MathWorks (Machinery)
TIBCO Software (Computer Software)
Varian Medical Systems (Medical Devices)
While you can say a lot of these jobs are in the "high tech" sector (software, computer networking, information technology) it is again clear that DITA is not just being used in that sector anymore. DITA is clearly becoming more pervasive in its use over time, spreading to other industries where its advantages (i.e. content reuse, reduced location costs, more consistent messaging, etc.) are seen as a big plus. Again, it is another reason to seriously consider getting some DITA knowledge/experience if you do not already have it.
DITA is Not Just for "Technical Writers"
While my focus was specifically on "Technical Writers" + DITA on Indeed.com—mainly because the term "Technical Writer" is still the most commonly-used term for that profession—if you simply do a search on "DITA" all by itself you will see many more jobs, typically almost twice the number of jobs with "Technical Writer" in them. Here are some other jobs titles that are more or less synonymous with the more popular "Technical Writer" term that appeared on Indeed.com when just doing a search on "DITA":
Associate Content Developer
Information Developer
Instructional Designer
NA Editorial Manager
Technical Author
What I found telling though were the other types of positions advertised where DITA was being asked for that were not typical for Technical Writer position, such as:
Director, Business Solutions Architect
Documentation Toolsmith
Java Developer – Web Services
Program Manager – Global Vendor Experience
Senior Engineer, Documentation Tools and Architecture
Senior Sales Consultant
Several of these ("Business Solutions Architect", "Documentation Toolsmith") are clearly for roles designed to support the operations of the Technical Documentation unit, so some knowledge of DITA may well be a requirement. What I find interesting are jobs like the "Program Manager" one, which is looking for "experience with HTML, XHTML, CSS, DITA, and content management systems (CMS)", or the "Senior Sales Consultant" role which says: "today, our unique global approach is based on an in-depth knowledge of content, data and standards such as XML, SGML, S1000D, DITA, ATA, SCORM and MIL." It will be interesting to see if this is a trend and there are more jobs like these in the future, where some level of expertise of documentation standards like DITA becomes more and more of a requirement for non-Technical Writing jobs.
Final Thoughts
So where do things finally stand for Technical Writers and DITA? It's arguably still early days yet for DITA, since its use is increasingly widespread but is not yet pervasive. Having DITA knowledge or experience is not at the point where it is a requirement for any Technical Writing position you are likely to find out there, but it can be safely be said to be an increasingly important skill to add to one's repertoire along with a knowledge of more traditional tech writing tools and basic communication skills.