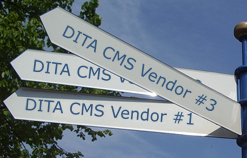 The following are all the CMSes I can find that claim to be DITA-capable. There are separate listings for DITA CMSes in English, Dutch and in Japanese.
This initial version of the listing (think of it as "Mark I") is pretty basic. The main goal is to capture in one place all of the DITA-capable CMSes out there rather than to provide a mechanism for comparison – that will hopefully come later. I have recently written an article about how to choose a DITA-capable CMS that best fits your department's needs, which is also worth taking a look at.
More information about the categories and some observations made while doing this survey after the lists (which is also captured in this front-page article). Here they are:
List of English DITA-capable CMSes

Name
Manufacturer
DB Type
CMS Type
Core Software Handles
Workflow Mgmt. Built-in
L10n Features Built-in
Standalone or SaaS
Astoria On-Demand
Astoria Software
Native XML
CCMS
DITA
Y
Y
SaaS or Hosted
"Astoria On-Demand enriches Global 2000 organizations with the greatest benefit from their most valuable content: technical documentation. We do this by delivering the industry's most comprehensive on-demand solution for building, managing, and assembling DITA (Darwin Information Typing Architecture) content."
Author-it
Author-it
Relational
EAP / CCMS
DITA, XML
Y
Y
SaaS
"Author-it's purpose-built component authoring solution for Life Sciences helps companies achieve what most successful enterprises do in the 21st century: leverage information to meet business needs. By revolutionizing the way information is created, collaborated and delivered, Author-it helps you increase productivity, efficiency and reliability of your content."
Cinnamon
Cinnamon
Relational (PostgreSQL, MS SQL, MySQL)
ECMS with support for DITA
DITA
N
*
Standalone
"Cinnamon is an Open Source Enterprise Content Management System (ECMS), capable of managing digital assets of all types and formats. Cinnamon is a particularly sophisticated system, more powerful than most other solutions. And on top of this, Cinnamon has the immense advantage of being Open Source, abolishing "vendor lock-in", speeding up bugfixes and improving the user-experience at drastically reduced cost."
Componize
Componize
Native XML (Alfresco)

ECMS with support for DITA

DITA, DocBook, XML
Y
*
Standalone
"Componize is a DITA content management system that optimizes the authoring, management and publishing of high-volume product information such as product documentation or learning content. Combining enterprise-wide collaboration, ease of use, scalability and an open architecture, it provides the full range of features that organizations need today for their content strategy. Spend less time organizing, searching for and re-doing content, and more time creating real value through better reuse and faster multi-channel production."
DITA CMS
IXIASOFT
Native XML (TEXTML Server)
CCMS
DITA
Y
Y
Hosted, Standalone, Subscription
"DITA CMS is the leading component content management solution (CCMS) worldwide. Specifically designed to manage the entire DITA documentation process, DITA CMS provides all the tools required to "go big" and supports a complex documentation workflow from authoring to reviewing, localizing and publishing. DITA CMS hit the market in 2006 and has a solid track record among the documentation industry, having been deployed within leading organizations such as SAP, AMD, and BlackBerry. DITA CMS allows end-users to focus on creating valuable content for their customers without wasting time on search or formatting."
DITAToo
iG5 Authoring Tools
Relational (MySQL)
CCMS
DITA
Y
Y
Standalone
"DITAToo is a DITA Content Management System (DITA CMS) that automates and facilitates many of the tasks you have to do everyday. Whether you're changing the structure of your DITA content repository and need all the links to be updated automatically, want to track how each DITA topic is reused, wish to produce an output based on DITA conditional attributes, or need to manage translations – DITAToo DITA CMS will provide a simple and easy-to-use solution."
DITAworksPRO
DITAworks
Native XML (Alfresco), Relational (IBM Filenet)
CCMS
DITA
Y
Y
SaaS, Standalone
"DITAworks is an enterprise-grade DITA CMS (Content Management System) for authoring, managing and publishing DITA content. It is designed for enterprise content management of structured content and complex documentation or documentation arrays with a unified content reuse mechanism."
DocZone
RSI Content Solutions
Native XML (Alfresco)
CCMS
DITA
Y
Y
SaaS
"Robust end-to-end cloud platform for technical publishers. DocZone has blazed a new trail as a pioneer in the XML component content management and single-source publishing software and technical publishing community. DocZone is the industry's first "on-demand" solution for authoring, managing, reusing, localizing, and publishing content to any output format, in any language."
DX4
DITA Exchange
SharePoint
CCMS
DITA
Y **
N
SaaS, Hosted or Standalone

"Dx4 is a structured authoring and management solution that makes it easy for organizations to create, manage, deliver and re-use important content, while enabling them to publish it anywhere, consistently, in the format you need for your readers. By adding structure to content development, organizations can standardize information throughout the business, increasing document quality and decreasing costs as well as review and approval time significantly. Dx4 extends the Microsoft SharePoint platform to help organizations standardize their content creation."
easyDITA
Jorsek Software
Native XML
CCMS
DITA
Y
Y
SaaS (Cloud)
"More than just a Content Management System, easyDITA gives you control over every detail of content components. easyDITA gives you the power to manage publications, topics, and media all in one place. This granularity improves findability, enhances reuse, and ensures accuracy of information in all of your documentation."

eXact learning Suite
eXact learning solutions
Relational (MS SQL, Oracle)

LCMS
AICC, IMS, DITA, SCORM 1.2, SCORM 2004
Y
Y
SaaS, Standalone

"eXact learning LCMS is the industry reference, Learning Content Management System that responds to today's varying business pressures, supporting instantaneous, company-wide collaboration for the creation of critical learning content. eXact learning LCMS maximizes your existing content investments, while supporting learning content strategies that improve on your key business processes."
IBM FileNet P8
IBM
Relational (Content Engine)
ECMS with support for DITA
DITA
Y
Y
Standalone
"IBM FileNet P8 DITA Publishing provides a DITA-based information development solution that is built upon the following IBM FileNet P8 functionality: Documents (subclassing and custom properties), Compound Documents, Document Classification, Query, [and] Publishing."
PTC Windchill
PTC
Relational
ECMS with support for DITA
DITA, S1000D, SCORM
Y
Y
Standalone
"Today's groundbreaking products are more complex than ever before. Innovative new designs must leverage a combination of mechanical, electrical, software, and connectivity – requiring a robust, multidisciplinary approach to product development that starts as far back as defining requirements. To beat the competition, today's cutting-edge products must be released to market faster, with better quality, at a lower cost, and with more desirable features."
SDL Knowledge Center
SDL
Native XML
CCMS
DITA
Y
Y
SaaS, Hosted or Standalone
"SDL Knowledge Center is an enterprise solution for creating, managing and delivering high quality structured content for technical documentation and self-service support."

SiberSafe DITA CMS
SiberLogic
Relational (MySQL, Oracle, MS SQL, MS Access)
CCMS
DITA, DocBook, MIL-STD-2361, S1000D, SCORM
Y
Y
Standalone
"SiberSafe DITA CMS offers a collaborative, state-of-the-art content development environment for teams producing topic-based documentation in DITA XML. SiberSafe DITA Edition feature set delivers comprehensive support for DITA content creation, management, maintenance, and delivery, dramatically increasing the efficiency of DITA content processes and performance."
SiberSafe DITA Team5
SiberLogic
Relational (MySQL, Oracle, MS SQL, MS Access)
CCMS
DITA, DocBook, MIL-STD-2361, S1000D, SCORM
Y
Y
Standalone
"SiberSafe DITA Team5 is an optional SERVICE PACKAGE for SiberSafe DITA CMS, offering a turn-key set of implementation services for SiberSafe DITA CMS on a reasonable and affordable fixed budget of $6,000."
Sirius DITA
Acolada
Native XML
ECMS with support for DITA
DITA, DocBook, SGML/XML
N
Y
Standalone
"Sirius DITA is the XML content management system from Acolada that fully integrates the DITA standard. The simple handling makes Sirius DITA equally suitable for beginners and experienced users in the documentation with DITA and XML. Sirius DITA brings together in one application the technology of the Sirius CMS XML system with the DITA standard."
Teamcenter
Siemens
SharePoint
PLM with support for DITA
DITA, S1000D, SGML/XML
?
?
Standalone
"Teamcenter document and content management solutions manage documents and technical publications in the same product lifecycle management (PLM) system as all your other product-related information. Your authors have direct access to product information as the products evolve, and can work to the same milestones. You can keep your product design and documentation aligned with product changes to reduce the time and cost of documentation while improving quality and delivery."
Vasont DITA CMS
Vasont
Relational
CCMS
DITA, DocBook, S1000D
Y
Y
SaaS (?), Standalone
"The Vasont DITA Content Management System (CMS) focuses on the DITA standard by providing DITA-specific functionality and reporting. Our DITA XML content management system allows you to search content with ease, control user access to content, and analyze reused content's ROI, all under a protective umbrella of advanced security."
XDocs CCMS
Bluestream
Relational (MySQL)
CCMS
DITA
Y
Y
Standalone, Hosted

"Bluestream's flagship product is the XDocs Component Content Management System (CCMS). XDocs is an out-of-the-box enterprise DITA CMS that installs and deploys in hours, rather than days. The XDocs CCMS addresses your increasingly complex demands for content. End-to-end, you and your content team can create, find, update, manage, translate, and deliver content with unparalleled agility. XDocs components were designed with your authors, reviewers, editors, managers, translators, publishers, and customers in mind."
XML Documentation Add-on for Adobe Experience Manager
Adobe
Relational (MongoDB Enterprise, IBM DB2, MySQL)
WCMS, CCMS
DITA, XML
Y
Y
Standalone
"XML Documentation Add-on for Adobe Experience Manager is a powerful, enterprise-grade DITA CCMS. Dynamically deliver DITA content directly to Experience Manager, thereby offering highly interactive and personalized experiences to end users. Effectively manage all critical aspects of your enterprise content workflow such as authoring, web-based review and collaboration, translation, project management, digital asset management, reporting, and multichannel publishing. Benefit from a unified content strategy by bringing marketing and technical content to the same platform, making it easier to deliver a consistent user experience pre and post purchase."
Zoomin Docs
Zoomin
SharePoint
CCMS
ATA, DITA, IETM, S1000D, SCORM
Y
Y
Standalone
"Zoomin Docs extends the reach of your product documentation, giving your customers easy and personalized access to the answers they need from any location or device. Provide customers with a single portal that moves your content from a world of documents to a world of answers."
List of Dutch DITA-capable CMSes

Name
Manufacturer
DB Type
CMS Type
Core Software Handles
Workflow Management Built-in
Localization Features Built-in
Standalone or SaaS
Sitecore
Sitecore
?
?
DITA
?
Y
Standalone (?)
"Iquality levert software, internet en media oplossingen op maat om informatie zo effectief mogelijk te delen. Standaarden en in het bijzonder DITA spelen daarbij een belangrijke rol. Uitwisseling van informatie tussen mensen en organisaties wordt veel effectiever als de interpretatie van gegevens geen drempels opwerpt."
List of Japanese DITA-capable CMSes

Name
Manufacturer
DB Type
CMS Type
Core Software Handles
Workflow Management Built-in
Localization Features Built-in
Standalone or SaaS
AlfrescoPlus
ReKnowledge
Relational (Alfresco)
CCMS
DITA
X
?
Standalone
"オープンソースであるAlfrescoをCMSとして採用し、DITA入力はArbortextEditor、またPDF、Web出力はDITA-OTを標準として、お客様の要望によりAPE(Arbortext Publishing Engine)や他の商用ツールを利用可能にします。システムの概略図を示します。"
Author-it (Japanese)

ida Corporation (Reseller)
Relational

EAP / CCMS

DITA, XML

Y

Y

SaaS **

Author-it は、企業活動に必要な多種多様なドキュメントを一括管理し、様々なレイアウトや形式に出力できるソフトウエアです。一つのソースデータから、トレーニング用資料、製品マニュアル、カタログ、オンラインヘルプ、提案書、規定書など多様なレイアウトやアウトプットに対応できます。
Componize (Japanese)

Componize

Native XML (Alfresco)

ECMS with support for DITA

DITA, DocBook, XML

Y

*

Standalone

"Componizeは製品情報やeラーニングコンテンツなどの大量の文書の生成・管理・出版に向け最適化されたDITAコンテンツ管理システムです。これにより巨大な組織であってもDITAコンポーネントコンテンツ管理の最新のイノベーションの恩恵を受けることができるようになりました。文書の整理、検索、作り直しの時間を短縮し、より良い再利用の仕組みと高速なマルチチャネル出力機能を活用して本当の価値を生み出すために時間を使いましょう。"

Dante
Info Green
Relational (IBM DB2)
CCMS
DITA
?
?
SaaS
"Danteは、CMS専門メーカーのインフォグリーン株式会社が開発した純国産のDITA-CCM(Component Contents Management)システムです。 DITA形式で作成されたマップとトピック及び関係する画像データなどの各種ファイルをサーバーデータベース上で一元管理します。 データベースには、DITAの提唱元であるIBMのDB2を採用し、リレーショナルDBとXML-DBのハイブリッド機能を活用し、柔軟なメタ情報管理ときめ細かな検索を実現しました。"
DITA CMS
Ixiasoft
Native XML (TEXTML Server)
CCMS
DITA
Y
Y
Standalone
"DITA CMS は業界最高の CCMS (Component Content Management System) ソリューションです。DITAドキュメント作成プロセス全体を管理する DITA CMS は、オーサリングからレビュー、ローカライズ、パブリッシュまでの複雑なワークフローに対応し、コンテンツ作成及び管理に必要な機能のすべてが揃っています。

2006年に市場に発表して以来、DITA CMSは堅実な実績を残し、SAP、AMD、BlackBerry などの大手企業に導入されてきました。DITA CMSでは、検索や書式の設定に時間を費やすことなく、顧客向けのコンテンツ作成に集中できます。"
NEXTDarwin
Next Solution
Relational (IBM DB2)
CCMS
DITA
Y
SaaS
"NEXTDarwinは、文書の執筆から、最終成果物の生成、コンテンツ管理までをサポートする、オールインワンタイプのWebシステムです。Webブラウザ上のエディタで、ワープロライクにXML文書を編集できます。そして、最終成果物は、用途やデバイスに応じて、PDF、HTML、EPUB形式で作成できます。"
Not All CMSes are Alike
First, a word on what's in the list: I had to start somewhere and the very basics struck me as the following:
Name of DITA-capable CMS software
Manufacturer
A description (from the manufacturer's web site) about the CMS
As I went on, I realized that a number of these systems were not what I would call a traditional CCMS (Content Component Management System) that I have the most direct experience of. Several of these CMSes are in fact ECMS (Enterprise Content Management Systems) or EAPs (Enterprise Authoring Platforms) that have had DITA capabilities bolted on. There's also one LCMS (Learning Content Management System) in the list, which is aimed squarely at the training market.
SaaS or Standalone Systems?
Another interesting aspect I noted while doing this survey is a move towards DITA-capable CMSes that operate as SaaS (Software as a Service) and in a few cases as a fully hosted system held by the software manufacturer. For example, I had always thought that Astoria was a standalone product (and old articles I ran across supported that idea , and at least one person on LinkedIn mentioned it as such, but their website now makes no mention of anything other than their SaaS or Hosted solution.
There are still plenty of standalone systems out there for those technical documentation groups who require that these types of systems be in-house, and there are definitely advantages to both types of systems. SaaS and Hosted systems do not require the capital outlay necessary for buying servers and software, though you can expect to be tied to a service contract. Standalone systems offer the possibility of greater flexibility and security, though with the additional IT and development costs that come with it. Each documentation team and their circumstances are different, so knowing the types of options available in this area is important.
More than Just DITA?
Another aspect that stood out while doing the survey is that many of these DITA-capable CMSes were originally designed as a more general-purpose XML authoring system, so that some systems are not just DITA-capable but can also be used for other documentation specifications, such as S1000D, ATA, various flavours of SCORM and other standards. If you are looking to author in any of these other specifications the additional functionality will be a bonus.
Database, SharePoint or an XML Repository?
The type of database in which the XML information is stored is another factor that can play into the decision-making process of choosing a DITA-capable CMS. XML repositories offer the advantage of working in with DITA in its native environment where an XML topic is the fundamental unit of storage and is more readily manipulated using other XML-based languages such as XQuery, XPath and Microsoft SharePoint. Having said that, relational databases can often perform just as well and there are many more experienced relational database administrators out there than XML repository experts. For many organizations Microsoft SharePoint is already available under a corporate license, and it may make the most sense for some documentation groups to leverage what you have rather than going out and getting a system based in a database/repository that is unfamiliar.
Workflow and Localization as Built-in Features
When deploying a DITA-capable CMS, many documentation departments are not just looking to make their processes more efficient, but also to formalize them. This is where having built-in workflow mechanisms within a CMS can be a big plus.
Similarly, many firms justify their purchase of a DITA-capable CMS on the basis of localization cost savings, so having access to some mechanism that allows users to create localization kits or has some direct tie to a system where translators can work with the content is clearly worth having.
In my listing I have noted where CMS vendors have mentioned that such processes are considered part of the overall product, so ties to third-party software (which may exist and in some cases may be more suitable) are included. Also note that in some cases these features are considered "extras" which need to be paid for.
Acknowledgements
A big thank you to the folks in the DITA Awareness forum on LinkedIn who helped me fill several major gaps in my original list – this list would not be where it is today without them and their suggestions. Kudos also to several CMS software manufacturers who responded to my calls for more information, as this list would have had many more question marks in the columns without them. (As a result of the contacts made I am also planning on doing reviews of several CMSes in the near future).
Finally, if you spot something in this list that is either incorrect or absent, please let me know !