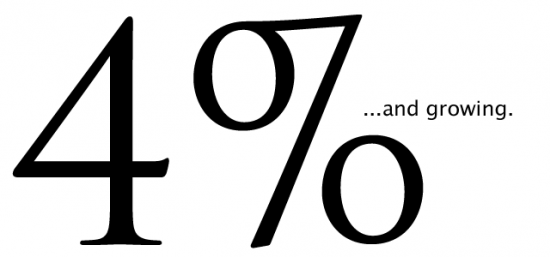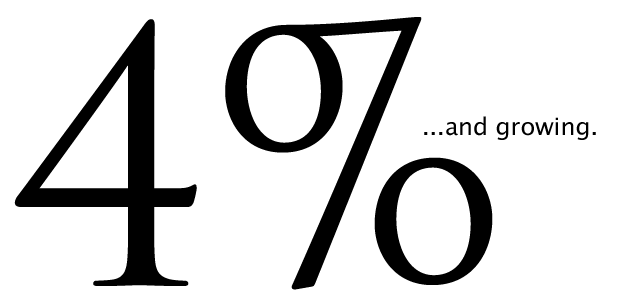 4% …and growing.
About half-a-year ago Mekon colleague Rachel Johnson asked me whether I knew what percentage of technical writing jobs out there are DITA-related. I said I didn't know, and became intrigued with finding the answer to that question. While I have a lengthy list of companies using DITA, I wondered what percentage that represented in terms of the total number of technical writing positions that are out there.
So I set out to find out for myself.
The Process
Anyone who is familiar with looking for a job online in the States is likely familiar with indeed.com which is a web site that aggregates job listings from other sources. It is the largest job site available, surpassing in popularity other well-known job-seeking sites like Monster.com and CareerBuilder. One of the reasons for its popularity is not just because it brings together so many jobs together in one place—reportedly over 1 million new jobs every week—but because its search engine is particularly good, so job seekers can find better matches for the types of positions they are seeking.
Beginning at the end of last August I started keeping track of the total number of technical writing jobs listed on Indeed.com and then matched them to common terms for requirements, such as "FrameMaker", "Word", "Acrobat" and of course "DITA". Every month for the past six months I have run the same searches and compiled the results. Specifically I would run a search for "technical writer" + [term], so that I would find all tech writing positions that also mentioned the additional search term. There are some shortcomings to this approach, since the sheer numbers means I can't check every job entry specifically, so not every "technical writer" job listing necessarily lists something like "DITA" (or "RoboHelp", or "HTML" etc.), as a requirement, just that it appears somewhere in the job description.
The Results
One thing that immediately became clear: if you are looking to be a technical writer, don't give up on your Word or Excel skills, since by far they were the two terms most often associated with technical writing job searches. "Word" is present in roughly 30% of all technical writer jobs posted, with Excel hovering around the 20% mark. Manuals produced using Word are less common now than they used to be, but it is clear that it is still widely used. Stalwart Adobe FrameMaker is mentioned in just over 10% of all "Technical Writer" jobs listed on Indeed.com, proving that it still widely used.
Compared to these software programs, technical writing jobs seeking some form of DITA experience comes in at about 4%, so just under half of all of similar jobs looking for people who have used FrameMaker. This doesn't tell the whole tale though—what I find most interesting is that there is downward trend for tech writing jobs in the traditional MS Office programs across the board. And DITA is growing…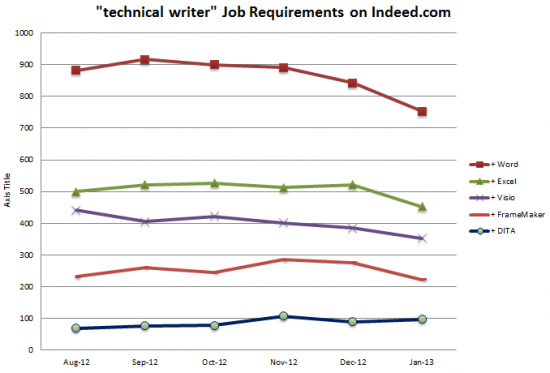 To be fair I don't think the two are necessarily related, but what I can say with some confidence is that over the past half-year jobs looking for some form of DITA experience has grown from 2.6% in August 2012 to just over 4% in January 2013 in what appears to be a steady, growing trend. All MS Office programs are trending downward in this job category. I can't honestly explain it and it will be interesting to see if this will be a continuing trend. Despite the dip in the numbers in January for FrameMaker, there is no clear trend up or down for this program.
DITA Jobs Compared to Other Documentation Standards
The other thing I wanted to find out was whether or not DITA was in fact more popular than other documentation standards out there. So some of the other terms I kept plugging in along with "technical writer" over six months included:
HTML
XML
CSS
SGML
S1000D
DocBook
Now the first three are more generic in nature so I figured that they would likely be more popular than DITA, since many technical writing jobs have some requirement for some sort of web page content. I wasn't sure about the rest, which are all documentation standards that have been around longer than DITA.
Here's what came up: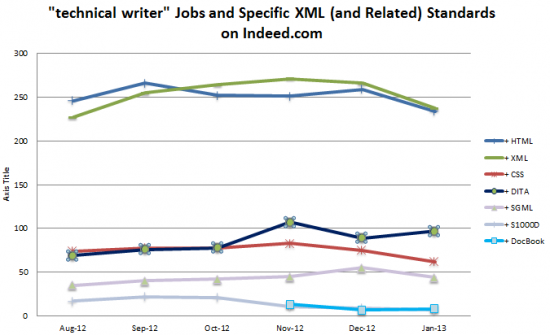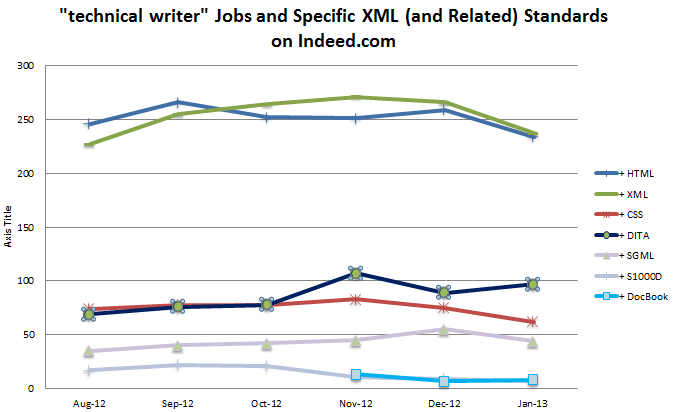 DITA turned out to be far-and-away a more popular documentation standard for current tech writing jobs, and to my surprise even more popular than CSS.
The average percentage for the major tech doc standards for the period surveyed are:
DITA: 3.23%
SGML: 1.63%
S1000D: 0.53%
DocBook: 0.36%
According to studies done several years ago by both Gartner and Forrester, DITA was the fastest growing XML standard for structured publications. It still is.
Next time: Who's hiring and is DITA just for Technical Writers?