Update: My thanks to Wim Hooghwinkel of Information Energy who sent me a list of a several firms in The Nederlands that are using DITA, which single-handedly pushed the numbers of firms for that country up a full percentage point. Also to my Mekon colleague Noz Urbina who pointed out a problem with the numbers on one of the charts, which I have corrected in this update. (It should also be noted that the way Excel rounds whole percentage figures is a bit wonky, but everything still adds up to 100).
The other day I released a significant update to the Companies Using DITA listing, which means that it is also time for me to update where DITA is being used across the world. When compiling the list I note where the HQ for that firm is situated. This may or may not be the same place where DITA is actually being used, as in some cases it may only be a single division or tech docs group with a company that is using it, but I have found the results that emerge to be interesting and over the past couple of years have proven to be surprisingly consistent in terms of the percentages.
Going by the numbers, by far the majority of companies using DITA are based out of North America, as you can see from the following pie chart: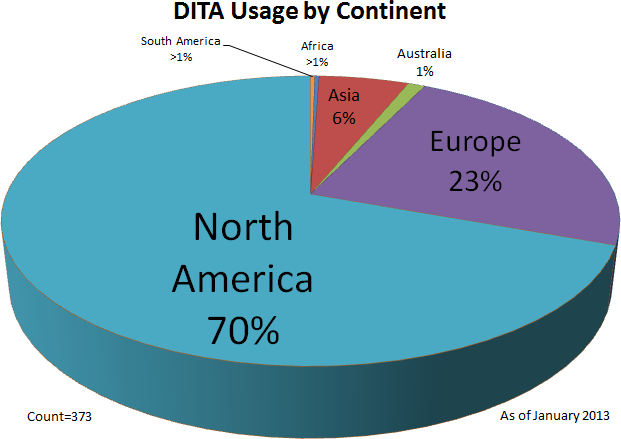 If you compare this year's pie chart to the one I did last year at first glance there's only slight change, with Europe picking up a percentage overall from North America. What's more significant is the size of the pie: this year's chart represents an almost 20% growth over last year's.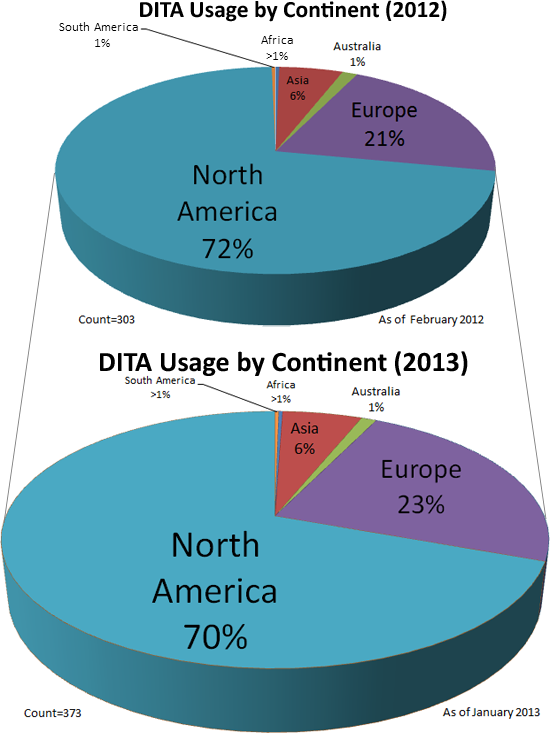 Sadly, the only continent still without any representation is Antarctica. Once again no one has thought to teach the penguins down there the benefits of using DITA… 😉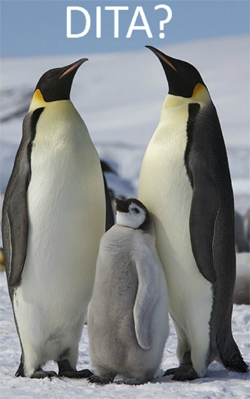 Country-by-Country Breakdown
Here is a complete breakdown of DITA usage by all countries in the world: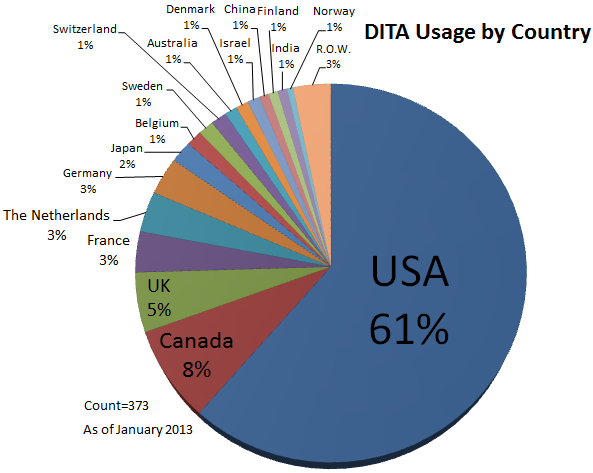 It should be of no surprise to anybody that the US is the hotbed for DITA usage throughout the world, and by itself holds the majority of all DITA-based firms in the world. After that comes Canada, then the UK, then France, The Netherlands and Germany, then a mix of European and Asian countries at or above the 1% mark. The key difference between this chart and the one from last year are the addition of Israel, China and India where usage has grown to represent a single percent apiece of the total. The countries comprising the Rest of World (R.O.W.) shown on the chart are:
Hungary
Ireland
Italy
Kenya
Korea
Pakistan
Portugal
R.O.C.
Romania
Russia
Singapore
Uruguay
One of the critiques that sometimes thrown at DITA is that it is an English-language only phenomenon, and yet the number of European and Asian firms that are using it would suggest otherwise. While a number of those firms are likely also authoring original material in English, it is unlikely that all of them are.
This survey update says to me that DITA XML adoption is a world-wide phenomenon, and that if you are on a documentation team using it, you are in increasingly good company!
Tomorrow: regional Distribution of DITA Usage in North America and in Europe.