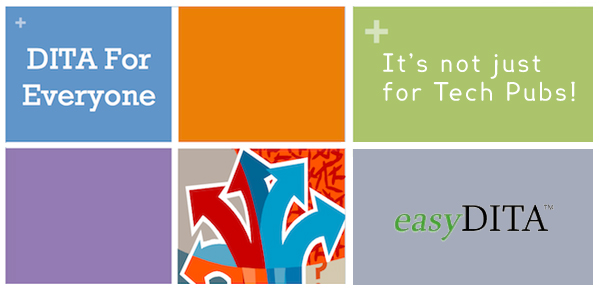 The folks at easyDITA, who this past summer hosted the DITA Rockstar series of webinars are hosting a new free webinar to accompany a white paper called: DITA for Everyone – It's Not Just for Tech Pubs!.
While DITA has gained significant traction within the realm of Technical Publications, in many organizations it has not gained a significant foothold. The white paper/webinars explore what may be considered non-traditional areas for DITA use:
Product Engineering
Marketing
Customer support/field support
Training/Education
From easyDITA's promotional blurb:
Product documentation groups have greatly benefited from the adoption of the DITA standard over the past 10 years, optimizing the creation, management, and publishing processes and dramatically reducing costs and time to market. However, the rest of the enterprise has been slow to move their content to a standards-based environment. Is this a missed opportunity?
This webinar will highlight the benefits of DITA for the product development, training, support and marketing organizations and provides insight into how they can improve their productivity through closer collaboration with the technical publications department.
Perhaps a bit more to the point from their actual white paper:
For each of these scenarios, we will describe the typical current environment, the potential benefits of DITA-based collaboration with the technical publications staff, and illustrate with examples based on real-life success stories with the easyDITA™ platform for authoring, management, and publishing of DITA content. Okay, now this is beginning to sound interesting…
The webinar will run for two separate sessions one on November 6 from 12-1pm EST (5-6pm GMT, 6-7pm CET) and again on November 13 at 8-9am EST (1-2pm GMT, 2-3pm CET). To register for either session head here.