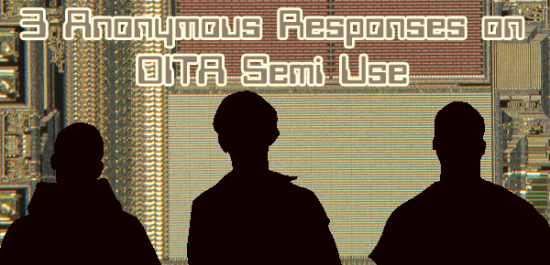 In addition to Bob Beims and Colin Maudry who were willing to go on the record, I got replies back from a few other people in the semiconductor industry as well, but they asked to remain anonymous in their replies. They have no objection to their responses being posted, they just can't have their names attached to them for one reason or another.
The first two anonymous responses are from senior people at two separate semiconductor firms who are currently using DITA, and the third is from someone at a different firm in this sector that is not using DITA, but are using their own custom XML instead.
Their responses to my questions below:
DITAWriter: From a semiconductor industry perspective, what are the chief benefits of using DITA?
Anonymous 1: On the hardware side, we see the key benefit as enabling reuse of collateral across product lines. It's harder to quantify the ROI with this, however, than with easier use cases like translation or single sourcing, and it's taken us longer to prove the value than I would have hoped.
Anonymous 2: It's too early for us to give proper answers for this but I can say that we have been approached by at least two of our business partners regarding closer collaboration in DITA content.
Anonymous 3: XML or structured data is required for process automation. Having content in structured XML means you can do "stuff" with it. Syndicate, segment, feed data, parse, automate, work with other standards like ipxact, etc… It's data, not a doc. It is also the preferred medium for translation.
DITAWriter: Are you looking to implement the DITA Semiconductor specialization when it is released alongside DITA 1.3?
Anonymous 1: No. We may revisit in the future.
Anonymous 2: We are not considering the specialization at the moment. We would have to see what might be added for DITA 1.3 as the current specialization has some limitations that we would need to address (I cannot go into detail).
Anonymous 3: No, but would consider if we were not on XML already. I actually worked on the DITA specialization committee for one year. We had decided to stay out of DITA at that point, so we dropped out of OASIS.
DITAWriter: Have you had the opportunity to import DITA XML from a firm you do business with?
Anonymous 1: No, but it looks like we may have that opportunity soon with some third-party vendors.
Anonymous 2: Yes.
Anonymous 3: No, but we have imported or transformed other XML to our schema. It is fairly easy as long as you are both using XML.
DITAWriter: Not all semiconductor firms have taken on DITA. Why do you think that is?
Anonymous 1: The main DITA use cases with the easiest ROI to demonstrate are translation and single sourcing. Most semiconductor companies do only a minimal amount of that. The use cases are harder.
Also, semiconductor firms are heavy with engineering authors, who are often resistant to the complexities of DITA and DITA authoring tools, especially if you haven't really built out your information architecture yet.
Anonymous 2: Cost, fear, use of other equally functional solution (there are other things out there that do the job), perceived complexity, not 'compatible' with corporate systems, not invented here mentality…
Anonymous 3: The primary one is people's resistance to getting off whatever tool or system they are currently using. Beyond that, if you were on XML or SGML early on, tools or standards were not quite there. Once you are buried in your own custom schema, there is little reason to migrate to a new one. Also, if your current content isn't DITA friendly, there is a lot of work needed to get in into shape. Not really a big value add if you are already on XML and reaping those benefits. Cost in dollars and resource is always a factor.
DITAWriter: What is your best experience using DITA? What is your worst experience using DITA?
Anonymous 1: Worst experience is getting management to properly understand and resource the need the information architecture development.
Best experience is getting management to properly understand and resource the need the information architecture development.
Anonymous 2: @conkeyref and @conkeyref. Seriously, the issues we have are in the main to do with people not the technology. The best part is the, for me (?), relative ease with which I can construct complicated content from properly reusable blocks. The hard part for me is the OT.
Anonymous 3: Never used it other than evaluation.
————–
That's it for my examination on DITA use in the semiconductor industry, at least for now.
One significant update: earlier this week Bob Beims posted a significant milestone in the development of the DITA SIDSC register description specialization, where the DITA SIDSC has been publicly delivered.
To see the results:
Go to www.freescale.com/infocenter/topic/qoriq/index.html
Navigate to P1022 and P1013 > Reference Manual > I2C Interfaces > I2C memory map/register definition click the I2C link
The topic that is displayed at that node was generated entirely from an SIDSC component file. You'll find similar register description topics for each of other peripheral modules on the P1022.
One other final note: I also contacted the makers of two leading DITA-optimized XML editors and was told that they intend to support the semiconductor standard when it is officially released, or soon after.