The Most Popular DITA CMSes (Part 1)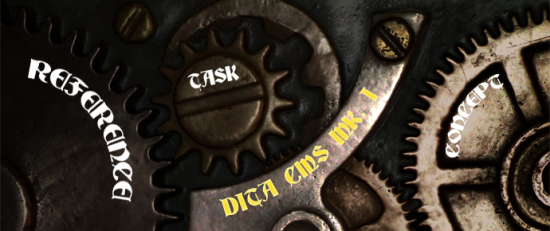 Easily the most visited page on this website is the DITA CMSes page, listing all of the DITA-capable CMSes I have been able to track down. It typically gets several hundred visits per month—closely followed by the list of DITA Optimized Editors and the DITA-related Software Tools pages—telling me that there's a strong need out there for good information on DITA CMSes. The DITA CMS list is currently undergoing a revamp and will be updated shortly, but up until now there has been no indication as to which of these DITA-capable CMSes are in wide use, and which are not.
So as a side-project I have started tracking which CMSes (if any) were mentioned by people on LinkedIn, SlideShare and other sources, and then comparing that the list of Companies Using DITA. I also cross-checked lists of company clients that are claimed by various CMS vendors and looked for confirmation that those firms were using them in a DITA context, since many DITA CMSes are capable of handling other XML formats, like DocBook or S1000D. I have managed to track down the CMS usage of just over half of the firms that are known to be using DITA, and what emerges tells the tale as to which DITA CMSes are actually being used and where.
So what is the most-used DITA CMS? SDL LiveContent Architect (formerly known as SDL Trisoft), is used by fully a quarter of all firms that I could identify that are using a DITA-capable CMS. This is closely followed by Ixiasoft's DITA CMS, which has 20% of that market. These two firms hold the lion's share of DITA CMS deployments that I could track down. After that comes a mix of other players, including long-standing CMS firms like Vasont and Arbortext, and a lot of what I would call "up-and-comers" who are those firms that have only recently come onto the market. Here's what this looks like: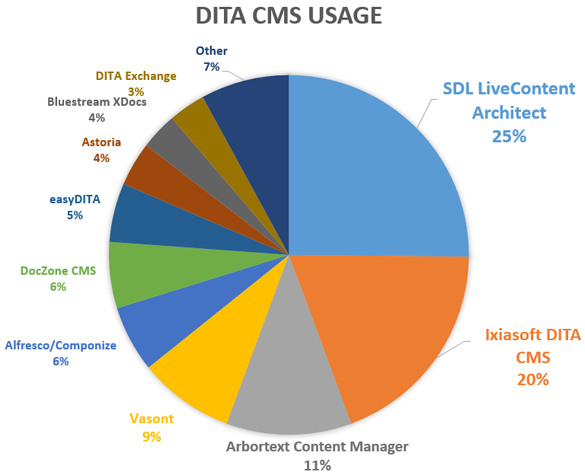 So is this a complete picture? No. But I think it does show some real trends. Understanding the full picture means delving into some history…
The "Big Two"
Both SDL and Ixiasoft's products have been on the market a long time, and have clearly proven successful.
SDL's current product offering is the result of a buy-outs and mergers of previous CMS firms, most notably Idiom and Trisoft. In the localization industry SDL is better known as a major vendor of translation tools and software, so it is a reasonable expectation by customers that SDL LiveContent Architect can handle this easily. This is pure speculation on my part, but am guessing that many of SDL's DITA CMS customers were already using their localization services, so it already had a "foot in the door" sales-wise and made for easier penetration into this marketplace. Much to SDL's credit they have been able to improve upon the solid codebase they acquired and integrate it into their other tools, providing a software suite that is clearly compelling to many customers.
Ixiasoft has also been on the market for a long time, and was one of the first major CMS systems specifically aimed at the DITA market. Arguably their strength has been their core XML-based repository (TEXTML) which is ideal for handling DITA content, which could handle files and file operations much more quickly than the standard databases used by many other CMS products. While this advantage has diminished thanks to the faster processing speeds available today, the ability to work natively in XML also makes it easier for clients to directly manipulate content with other third-party tools. Speaking from personal experience as a former client and as a consultant, I know that Ixiasoft has always worked with their customer base extensively, with subsequent customers benefiting from features originally designed for earlier clients.
Both firms have been able to capitalize on the early advantages that they had and now appear to dominate much of the DITA CMS marketplace.
Not Just DITA
Another core grouping I see here are those firms that do not exclusively concentrate on DITA, but also other XML standards like DocBook, SGML and S1000D. These include the #3 and #4 firms (Arbortext Content Manager and Vasont) and other players like Astoria and SiberSafe (which is in the "Other" group—more on that later). While they do not appear to dominate the marketplace as SDL and Ixiasoft do, each firm had the distinct advantage of being able to work with previous XML standards, making the transition process for some customers from legacy content to DITA easier. As with SDL, some of these firms likely had a foot-in-the-door already, either through things like Arbortext's XML editor software, or previous CMS installations for non-DITA content.
So why are they further back in the pack? I suspect it has to do with an initial lack of focus on the needs of the DITA market. From the start both SDL and Ixiasoft focused squarely on DITA, whereas these other players have been initially designed for use with other XML specifications. "DITA-capable" is not the same as "DITA optimized" and the advent of the complex features introduced with the DITA 1.2 specification required significant development efforts that in some cases have only been realized recently. Having said that these vendors definitely understand the strength of the DITA CMS space and have made up for lost time with what are now genuinely solid products.
The "Up-and-Comers" and the "Others"
There is another distinct group I see here who are further back in the pack than the market leaders, which I think is due more to the relative new-ness of their product offerings, and are consequently are still likely growing their share of the DITA CMS marketplace. This includes firms like easyDITA and DITAToo (which is a member of the "Other" category). Both of these products are relatively recent entrants into the DITA CMS space; both easyDITA and DITAToo came on the scene in 2011. Their relative newness hints that these firms have not yet fully established themselves in the DITA CMS marketplace and that we see here is only the beginning of their potential.
The "Other" category consists of those firms for whom I could only find three or fewer DITA-specific clients. This includes:
Some of these firms do not concentrate exclusively on DITA (like RSuite and SiberSafe) so while they definitely have a larger overall customer base, determining which of these customers were DITA-specific was hard. Others are fairly new to the market, and x:Point is an add-on to SharePoint installations to better facilitate DITA usage, so it fills a particular niche.
This is also where I suspect there is significant under-reporting of DITA CMS tool usage. As I will show in the next article many of the DITA CMSes in the other categories have strong representation within large firms, whereas the aim of many of these products is at smaller companies and organizations. As a result they are the most likely to be under-represented in a survey like this; it is easier to find someone who will talk publicly about a DITA CMS used at a firm with 5,000 or more employees, less so for firms of a hundred people or smaller, so there is a self-selection bias likely happening with both the "up-and-comers" and with the "others".
Next article: DITA CMS market segmentation