When the number of firms/organizations listed on the Companies Using DITA page hit 200 yesterday, I thought it would be a good idea to take a look at the industry segments to see if there are some significant trends as to which sectors are using DITA for their documentation processes. The results may surprise you (they certainly did for me). While software firms represent the single largest sector, after that the "Other" category dominates, which reflects the genuinely widespread nature of DITA throughout all industry sectors.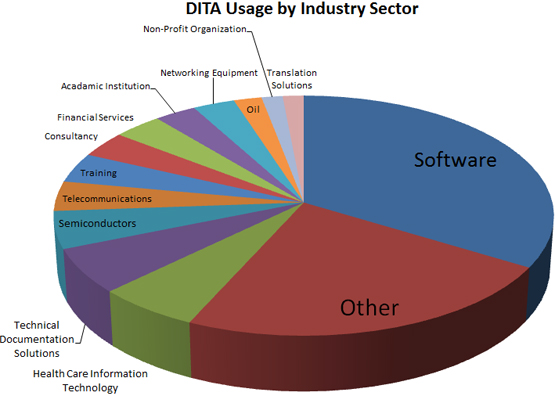 It should really come as no surprise that the Software sector dominates in this survey, comprising 34% of the firms listed. Given that the initial adopters of DITA were primarily from this sector, and that there are real cost/efficiency benefits to doing things like online help and especially localization, the use of DITA in this sector makes a lot of sense. What's interesting though is the size and diversity of the "Other" sector.
My threshold for being in the "Other" category was two or less organizations from the same sector, which taken together accounts for 23% of the total. There are a lot of industry sectors represented here including:
Aerospace/Defense
Commercial Refrigeration
Computer Hardware
Computer Imaging
Consumer Electronics
Crane Manufacturer (Heavy Equipment)
Data Warehousing
Diversified Machinery
Exercise Equipment Manufacturer
Fluid Technology and Equipment
Machine Tooling
Mining, Mining Machinery
Plumbing Fixtures
Sensor Manufacturer
Water Treatment
Wind Turbines
There is clearly a wide range of organizations using DITA. This is good to see, since it implies that DITA is flexible enough to meet the documentation requirements of all of these sectors. This is arguably the most significant finding out of this survey, a point which is further emphasized in some of the other sectors that emerge just above the "Other" threshold.
Not surprisingly, DITA has a strong foothold in the Technical Documentation Solutions sector (i.e. third-party firms that provide outsourced documentation services), as they react to the needs of their clients who demand more efficient/competitive pricing on their documentation services.
This is followed by a number of firms that are using DITA in the Health Care Technology sector. I find this interesting and significant since this sector is heavily regulated, so a success of DITA in this sector to me means that despite any uphill struggle there may have been in adoption, it is clearly here to stay.
After that come Telecommunication and Semiconductors firms. Given the relatively small number of players in these sectors, the small percentages belie the truth that in fact DITA likely commands the majority of documentation efforts in these sectors. This conclusion is backed up by other evidence, such as the Semiconductor specialization for DITA that is currently being worked on. Similarly, the Training sector, which makes up 4% of the organizations in the survey, also has an active DITA specialization that caters to its specific needs.
One of the things that surprised me out of this survey was the uptake that DITA has in some unexpected sectors (for me, at any rate), in particular Oil, Academic Institutions and Non-Profit Organizations. The needs of Oil firms are many, and DITA may be used in any number of possible applications, including use on internal software to documenting how to operate heavy equipment, so it is hard to pin the specifics of this one down. If the needs of the Mining sector are similar to that of Oil in their use of DITA, we may be seeing the beginning of a significant new area for DITA usage to expand into. It was also interesting to see several Universities who are using DITA, as well as particular non-profit organizations who find that DITA is flexible enough to meet their varied needs. (Most telling to me is the World Agroforestry Centre's usage of DITA, which is well documented).
DITA is clearly here to stay, and its uptake in such a wide range of industry sectors demonstrates that it is flexible enough to meet just about any documentation requirement that is out there.