One of the more eye-opening aspects of the first "So Who's Using DITA?" article I posted here a year ago was the variety of firms that had adopted DITA in some part of their documentation process. While those results were dominated by the number of software firms using it, what I found most interesting was how many other types of companies and organizations were also using DITA.
When compiling the most recent update to the Companies Using DITA listing, I decided to revamp the "Company Types" categories in the hopes of getting a clearer picture as to the background for each firm. Previously I had been using Wikipedia to help classify the firms, as the WP template for companies always lists the industry type. My problem was that almost 40% of the firms had no page on Wikipedia, leading me to make some educated guesses. Then I found that LinkedIn provided a more comprehensive alternative, with more-or-less consistent industry categories listed for each firm in its database, so I have combined that data with the firms I have listed.
The results are interesting, as I think you will agree…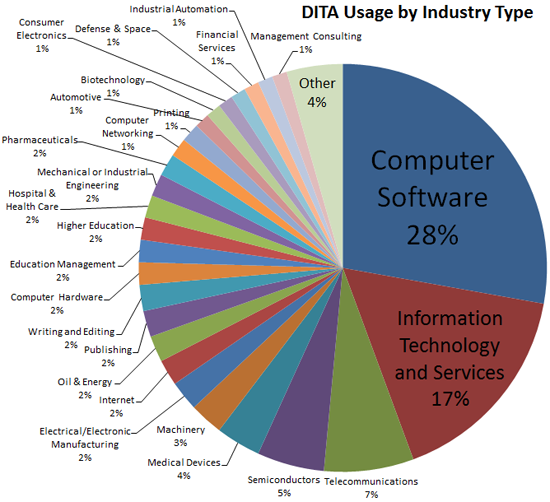 Computer Software
It should come as no surprise that computer software comprises the largest single category, comprising 25% of the total. DITA had its origins in this sector along with many of its initial adopters and from the get-go there were obvious cost/efficiency benefits for using DITA as the basis for tackling things like online help and especially localization. A short list of some of the firms in this category reads like a Who's Who of the software industry:
This is a selection of the nearly 100 firms comprising this category, all of whom are using DITA in some way in their documentation processes.
Information Technology and Services
The Information Technology and Services industry category is somewhat broad in its definition, comprising everything from consulting firms to computer components, management services, databases and more. It seems to be a catch-all category for companies that are known for having more than a single focus. A short list of some of the firms in this category includes:
As you can see this is a diverse set of companies, and all told there are 56 companies so described in this category.
Telecommunication and Semiconductor Firms
Next come two well-defined categories: telecommunications and semiconductor firms. These comprise both phone manufacturers (Ericsson, Research in Motion, Nokia and Sony Mobile Communications), related equipment and research (Alcatel-Lucent, Hughes Network Systems and Tellabs), related software (Symbian and Sandvine for example), to telecomm networks (Telus for example). Given the number of firms in this sector (25) it is surprising that there is no DITA telecommunications specialization in the works, though admittedly even this category can be considered broad in its scope.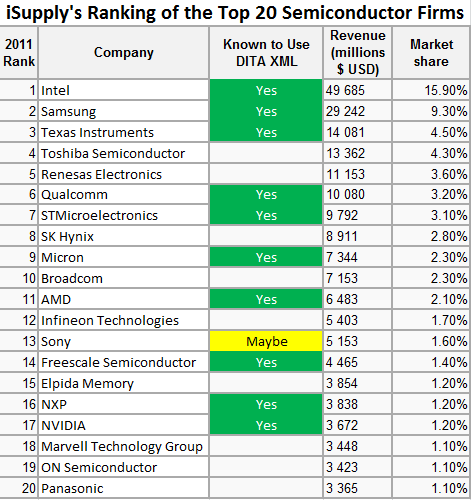 After this category comes semiconductor firms. There is a semiconductor specialization in the works for the firms working in this category.
One of the questions I have been asked is how pervasive is DITA usage within a particular sector? The semiconductor industry is a relatively well-defined sector, and as part of a presentation I did last year I compared my list of semiconductor firms against the "Top 20" such firms as defined by the market intelligence firm iSuppli. What I found back then (and is still true today) is that about half of the firms are using DITA in some way. None of the newly-added firms are in this list, though I have several on a watch list of firms that I strongly suspect (but can't as yet prove) are using DITA, so I suspect the percentage is actually higher.
Medical Device and Machinery Companies
While in many of the other sectors I suspect that I am simply discovering firms that have been using DITA XML for some time, I believe that there is significant growth happening for DITA adoption in these two sectors. I can't point to any specific fact that leads me to think this, other than it seems like there are significantly more firms in these sectors than I found when I last ran this survey. The first category is comprised of firms producing information technology for the health care sector. For example, Allscripts provides electronic health record technology, Elekta and Varian Medical Systems produce radiation therapy equipment, Horiba makes automated analysis devices,
and Ortho Clinical Diagnostics creates in vitro diagnostics products. Given that this sector is heavily regulated it tells me that the relative success of DITA adoption in this sector proves that it cannot only stand up to rigorous regulatory scrutiny, but due to the myriad of tools and CCMSes available, likely makes this process easier to manage.
Firms in the machinery sector are a mixed bag, including the likes of:
There's a significant portion of agricultural machinery firms in this category, mixed in with those that make mining equipment and machine parts.
The 2% Category of Firms Using DITA
While 2% may not seem like a lot, given the size of the Companies Using DITA list, it means that I have been able to track down at least six firms that fall into this category. The categories themselves are diverse: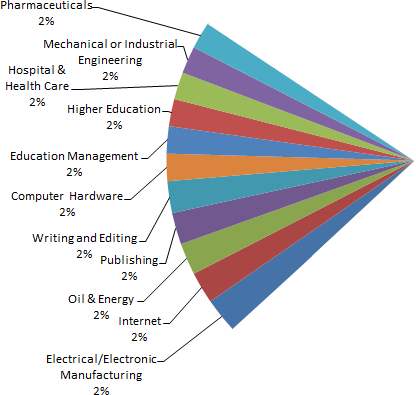 As you can see, this is a very diverse set of industries that are using DITA, which speaks to the versatility of this XML specification if nothing else.
What is "Other"?
There are also a number of firms in the 1% category (including companies in the Automotive, Consumer Electronics, Financial services and Defense), but there are also a significant number of firms I've had to place in the "Other" category, sometimes comprised of only single firms that I have found belonging to a particular industry category. The following graphic provides a glimpse as to what that "sliver" from the opening chart is comprised of: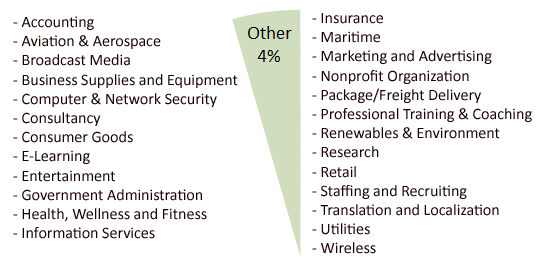 In this as in all of the other company categories, DITA is being used far and wide throughout just about any industry you can think of.
Tomorrow: What are the sizes of the companies that are utilizing DITA? Is company size a factor in DITA adoption rates?