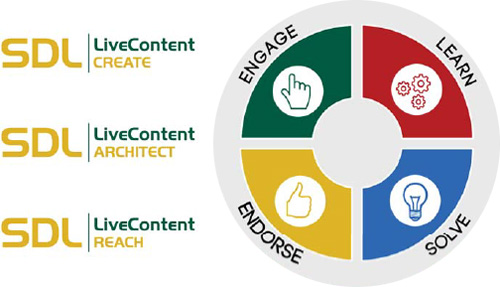 Early last week, in fact during their one-day DITA Fest conference, SDL announced a "new family of software products" under the banner of "SDL LiveContent".
Well, maybe not entirely new, and it was quickly evident either to anyone who has already been using their tools or has been watching the industry for a while that at the very least some significant rebranding as taking place: SDL's XML editor Xopus became SDL LiveContent Create, their SDL Trisoft CMS became SDL LiveContent Architect and their SDL LiveContent DITA web-delivery mechanism became SDL LiveContent Reach. Watching the slickly-produced video about the LiveContent Suite it was evident that SDL was doing a significant rebranding effort at the very least, and making a real effort to "suite-ify" their tools into a unified whole. Anybody who has been watching this effort knows that SDL has been working towards this goal for a while, and a better-integrated XML-based suite in itself would definitely be welcome.
But there was nothing that I could immediately find that pointed to what new features were available within the LiveContent suite. So I asked my contact at SDL what enhancements have been made to the products within the LiveContent suite. I got my answer late this past Friday from Andrew Thomas, SDL's Director of Product Marketing. From his email to me, here is a list of new features within the LiveContent suite:
SDL LiveContent Architect (formerly Trisoft)

Batch metadata editing
Batch workflow editing
Reply to SDL LiveContent Reach comments from within the Publication Manager
Comment exporting
Enhanced integration with SDL WorldServer
Authoring Bridge SDK

SDL LiveContent Create (formerly Xopus)

New Ribbon UI toolbar
Integrated content browser with SDL LiveContent Architect
UX improvements for consistent behavior for common content (lists, tables, images)

SDL LiveContent Reach (formerly SDL LiveContent)

Support for multiple skins
Integration with SDL LiveContent Create (for a structured wiki experience)
Sync of topic edits back to SDL LiveContent Architect
Sync of comments back and forth with SDL LiveContent Architect
So there are some significant developments here, with SDL LiveContent Architect's batch processing of metadata and workflow likely to appeal to those firms who already have significant time invested in what was the SDL Trisoft CMS and were looking for a way to apply metadata more broadly to their content, and to group collections of topics for review and approval. The additional integration to SDL WorldServer outside of the suite will also make localization workflows more streamlined.
Most of the changes to what used to be SDL Xopus (now SDL LiveContent Create) are suite-integration changes, but are not insignificant, and in fact the work done to better integrate the product with SDL's CMS is likely to make it a more compelling XML editor than the other stand-alone DITA-optimized editors on the market.
The most interesting feature update to what was SDL LiveContent (now SDL LiveContent Reach) is the synching of comments between it and the SDL LiveContent Architect CMS, which sounds to me like they have closed the gap in communication between the technical writers and the end-users reading their content. If this means that readers can now feedback comments and suggested changes back to the technical writing team, this alone ought to make the SDL LiveContent suite a more compelling choice.
The integration efforts have led to some other significant features; more from Andrew Thomas:
"One of the biggest improvements across all of the products is single sign-on (SSO). This allows for one login per session so that end users can quickly traverse all three products within one experience. A perfect example of this in action is a user browsing DITA topics in SDL LiveContent Reach (formerly LiveContent), seeing a topic that needs to be edited and launching SDL LiveContent Create (formerly Xopus) right there on the same page, and while applying the edit, bringing in content (conrefs, images, etc.) by browsing the underlying repository inside SDL LiveContent Architect (formerly Trisoft). In the past, that same example would require the end user to login to three different products and traverse the different interfaces to solve the same problem. This approach gets the software out of the user's way and avoids breaking the flow of their process.

We've also taken a uniform approach to the UI design so that feature terms, iconography, and actions all behave the same regardless of which product you might be in. In the future, we plan on combining some feature overlap areas such as the analytics reporting in SDL LiveContent Reach for even tighter integration".
SDL's concerted push of a tool suite based in XML definitely shows that there is a significant market out there for these types of tools, and it may even make the decision easier for those firms who are considering moving to a DITA-based workflow.
It's still early days and I have not yet heard from anyone who is actually using these tools in a production environment yet, but it is clear that SDL is not resting on its laurels. It has put out a significant suite of products that will be a challenge to other tool vendors in this space. The winners are those tech writing teams seeking better, more integrated DITA tools.