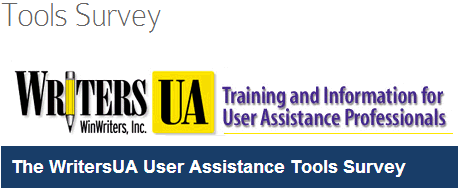 The people at WritersUA are again running their annual survey asking Technical Writers what tools they use, and the relative importance of those tools to their work. If you are a technical writer I urge you to take part in the latest survey. It only takes a few minutes, consisting of a single page where you are asked to indicate whether you use a tool (i.e. DITA Open Toolkit, FrameMaker, oXygen, XMetaL, etc) and how important it is to your work. If you are using a Content Management System, don't forget to add its name in the Comments field, as they will tally any tools that are mentioned there as well.
When the results of the survey are published I'll run an analysis on the results (like I did last year, and in a two-part article [part 1 | part 2] I did earlier this year) to see if there are any interesting trends in technical writing that emerge.
What to Expect in 2013 from DITAWriter.com
I also want to take this opportunity to wish everyone a Happy New Year, and to hint at some of the pieces I am working on that ought to appear early in 2013, including:
Revamp and expansion of the Companies Using DITA listing
Continuing the DITA-fication of an old TRS-80 manual in the popular Thinking and Writing in DITA series:
Examining the relevance of DITA skills in the overall Technical Writing job market
The types of roles writers can expect to be asked to take on when moving to using DITA
Some long overdue book reviews, including ones for DITA for Practitioners Volume 1: Architecture and Technology, by Eliot Kimber, and DITA Best Practices: A Roadmap for Writing, Editing, and Architecting in DITA, by Laura Bellamy, Michelle Carey, Jenifer Schlotfeldt
A compilation of presentations/webinars on DITA Best Practices
More interviews with people with views and opinions on working with DITA
…and undoubtedly more that I haven't even thought of as yet!
In the meantime, I hope you have had an enjoyable Holiday Season so far and have a Happy New Year!