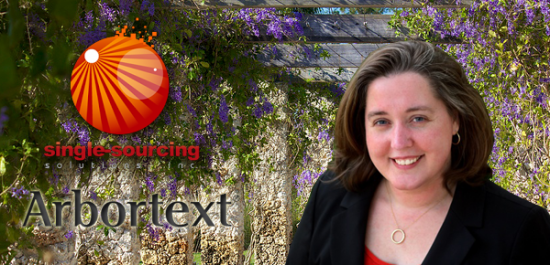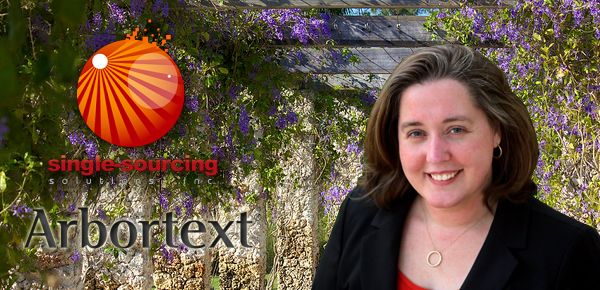 As regular readers of the DITAWriter blog will know, I like to post interviews with people who have shaped how DITA is being used. Liz Fraley, the CEO of Single-Sourcing Solutions has been there since the very beginnings of DITA and has worked with a large number of clients on a variety of XML-based solutions. Single-Sourcing Solutions is a consulting firm that helps their clients "solve their product information delivery challenges", specializing in both the DITA and S1000D standards. Her firm also specialize in training their clients on the PTC Arbortext product suite, including Arbortext Content Manager, which is a widely used DITA-capable CMSes. Fraley has some interesting perspectives on DITA, training and whether she thinks DITA is for everybody.
DITAWriter: Could you please tell me a little about your background and specifically your experiences with DITA and XML in general?
Fraley: I presented immediately before Michael Priestly's key DITA talk at SIGDOC back in 2003. I'd been working on an XML/single-sourcing project since 2000 and, although we hadn't used DITA specifically (though we did many DITA-ish things), I remember him asking me why we didn't. At that time DITA wasn't fully baked or supported by anyone outside of IBM, and we had started our work three years earlier. That company is still using XML today; they have since migrated to DITA and are doing some cool cutting-edge stuff with their support site; and they have a team of seven tools staff members working for them.
I've been doing XML publishing projects ever since and watching and using DITA, where possible, since I first looked at it back in 2000.
DITAWriter: What does Single-Sourcing Solutions have to offer to those seeking to work with DITA?
Fraley: We believe that expertly authoring in DITA can be accomplished by any team motivated to do so. It is because of this belief that we have structured our services a little different than most.
At Single-Sourcing Solutions, we feel it is our job to mentor and coach and train our customers so they grow confident in the technical aspects of the document structure. They already have the product and customer expertise so it only makes sense to teach them the part(s) they don't have rather than to do all the work for them. It is a far better value for the customer.
There are times where we are needed to carry more of the technical work load, such as in the case when customers are adopting new tools as well as adapting to a new content structure. In these situations, we work as an extension to the existing team. We have the ability to adapt to our customer's needs. After all, many of our customers are usually tackling more than one thing. Our clients are often trying to learn three things at once: new XML authoring software, DITA, and XML. Throw in content analysis, new architectures, topic-based authoring, stylesheet development, separating form from content, getting out of old habits, categorization/collation/library science metadata strategies, and they have a lot to learn.
Single-Sourcing Solutions is an Arbortext Value Add Reseller (VAR) partner to PTC and one of the few qualified Arbortext VARs in North America.
At Single-Sourcing Solutions, our desire to teach and help others in the community extends beyond our consulting projects. We have a huge library of videos that we have developed about all kinds of topics along with articles and sample code in a wiki that is only available to consulting customers, Master Series and Advisory Line members. The wiki includes notes and samples that our Sales and Application Engineers use to do demonstrations.
While this database is private, we also have a public database of code samples that we maintain for general use. The story about it is here: http://adepters.org/index.php?title=Why
Single-Sourcing Solutions has a blog, podcast, and we have done multiple webinars—both on general technical writing topics and on Arbortext specifically. We founded TC Camp and plan to spin it off as a non-profit entity status later this year. Our learning came the hard way, at the feet of others, and now we return the favor to our customers and pay it forward.
Not everything we do is necessarily DITA related. We teach anything that our customer needs after we learn it ourselves or find an expert to assist. Look at TC Dojo. Every topic there is based on a customer's request for answers. The webinars are based on what people have asked us to teach. It's a very different world here at S3I.
DITAWriter: Can you elaborate on how Arbortext software represents a full solution for those working with DITA?
Fraley: Arbortext was the first DITA-supporting application and was the platform IBM was using when they developed DITA. Arbortext with DITA support was first released in April 2004 with version 5.1.
It ships with pure DITA 1.2 as well as three specializations that their customers have repeatedly asked for since 2004. Arbortext supports just about everything and they continue with product releases with new features and enhancements. In fact, they drive their development from customer demands so there is a direct correlation between customer needs and product releases.
PTC has an extensive video library of content that includes videos that go back as far as version 5.1. There are courses on just about everything you could imagine, starting with the history of structured authoring and what it means. They have training on DITA, on topic-based authoring, on data analysis, as well as extensive product usage training.
These videos capture a lot of "tribal knowledge" about the product and about delivering implementation products. It's made it a lot easier for new customers to come on board and use the products. It's also part of our mentoring program at Single-Sourcing Solutions.
DITAWriter: What changes have you seen in the technical writing business since the advent of DITA?
Fraley: Some good, some bad. I've seen a lot of people who think: "DITA IS THE ANSWER!" and then go on to have the same mess they had before–in new tools. Many end up with disjointed content because they think DITA has prescribed their content in a certain way, without really understanding how to re-architect it first. I do not think DITA is for everyone and for every case.
On the good side, there's a lot more people thinking about XML and reuse now and are looking for ways to deliver to more formats more quickly. This has moved XML authoring and publishing into the mainstream in a way that SGML never did.