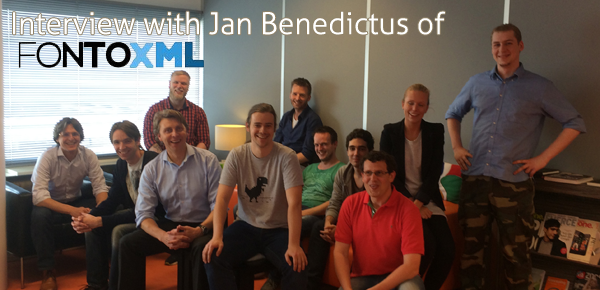 As part of an ongoing effort to put a human face to those building (and using!) the DITA tools out there, this is another in an ongoing series of interviews with the people who are passionate about what they are doing to help make technical documentation easier to create and better to use. As a consultant for Yellow Pencil I also have to keep on top of the latest developments in the industry so I can better advise my clients as to what tools are out there. I had the chance to get to talk with Liones CEO Jan Benedictus earlier this week, who gave me the lowdown on his firm's new DITA XML editor and allowed me to interview him about his firm's new product.
FontoXML is a new entry in the DITA XML editor marketplace, made by Dutch-based firm Liones. What I found interesting about their editor was the very web-centric approach they are taking with it, utilizing web services not only to connect remotely a CCMS from anywhere on any device, but to provide additional help to the writer to improve the quality of their writing specifically for use on the Web. Anyone used to Google Docs will recognize a lot of the interface choices that have been made for this product, from the absence of a "Save" button (running backups are made automatically), to the slimmed-down interface, how it actively incorporates running webservices and the general look-and-feel of the product.
DITAWriter: Could you tell me a little bit about yourself and your company?
Jan Benedictus: FontoXML is being developed by Liones, a Full Service Internet Agency, focused mainly on professional publishers. As a web agency our core competencies are combined IT and creativity, designing, building and optimizing websites and apps. I founded Liones in 1999 and have been CEO since then. We are a well-recognized online specialist in the Dutch B2B publishing market.
In 2012 we were asked to improve the user friendliness (and thus acceptance) of the online creation process for a large publisher. Their key problem was that, although they had an online authoring tool in place, nobody used it. Almost all of the content they received from the thousands of legal, financial and tax specialists who wrote content for them was delivered in Word, email and other unstructured formats. They needed better tools to reduce the costs of conversion, and to improve the structure of the content they received.
It was this project that made us realize that there is a substantial market for a user-friendly, online content creation product, especially for SME's. We did an analysis of existing tools, but none of them fulfilled the exact requirements this publisher had. FontoXML was born to address this need.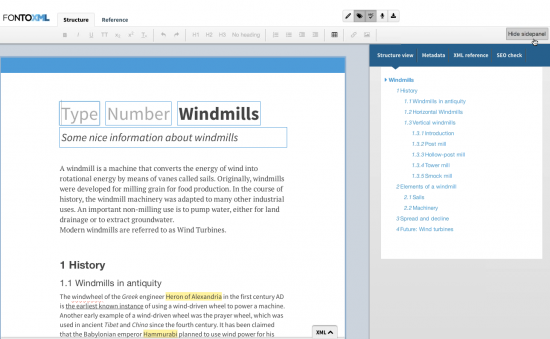 DITAWriter: There are a lot of XML editors out there, so what makes FontoXML stand out from the rest, especially for DITA users?
Jan Benedictus: Yes there are quite a few XML editors out there, many of them from long-established vendors. However, coming from our "web-based perspective" we made some fundamentally different choices in the design of FontoXML than editors coming from a long-standing XML / technical background.
Our starting point was the challenge of engaging SMEs to do structured authoring. We have tried to apply all of what we have learned from our online experience to reach this goal. We think people would prefer to use a tool not because the must do so, but because they like it. So we designed a user interface that we think is not only easy-to-use but also compelling and attractive.
As is common with software created for use in the online world, we extensively measure usage statistics and are constantly tweaking the interface. So we incorporate webservices in the authoring interface like automatic metadata suggestion, suggested related content and real-time feedback on content quality. Thus, we really try to make FontoXML a solution that gets more people to write better, structured content while benefitting organizations by reducing the costs this process.
So we are constantly seeking to bridge the gap between authors that are used to concepts such as bold and italics versus the semantic elements that characterize XML. We are putting a lot of effort towards making the whole concept of DITA maps and the position of topics therein more understandable for SMEs. We are also putting considerable effort in ongoing user testing of the interface to discover what works best.
DITAWriter: What are the benefits of having a Web-based XML editor as opposed to a standard, desktop installation?
Jan Benedictus: In general, we strongly believe in web-based work. The benefits are: no local installation, maintenance and upgrading of software (especially beneficial when large numbers of users are involved), favourable maintenance costs, and availability to the user wherever they are with whatever device they have on hand. I already mentioned the role of web-services such as thesauri, metadata suggestion etc., and these are designed to be plugged into web-applications. Furthermore, web-based applications have the ability to analyze user behaviour and thus give us information on how to improve the application.
The two main hurdles of web-based applications in the past has been that users always have to be online and the limitations that using web-browsers as a development platform imposes. However, connectivity is ever-improving and web browsers become more robust with each new version. This is also becoming visible in the growth in adoption of web-based and cloud-based applications such as Office360 and Google Docs.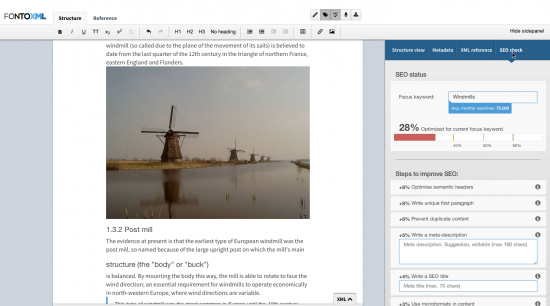 DITAWriter: I am particularly intrigued by the "SEO check" feature, which provides writers with ideas on how to improve their writing to ensure that it can be more readily found by search engines. Tell me how this feature works and how it came to be added to the product.
Jan Benedictus: This is a nice example of how we think that authoring will adopt best practices from the web. Typical practice for online marketing and e-commerce is a very fast cycle of online feedback and adapting to that. In authoring, immediate feedback this is still unchartered territory.
Search engines provide webservices that give feedback on the quality of the content. Factors include the richness of metadata, indication of the number of links and relationships, keyword density, how often keywords are being sought online, etc. Other services include feedback on the length of sentences (readability), whether terms being used are considered to be 'vague', the suggestion of related content, automatic classification, automatic summarization, entity recognition and more. We think many of these automated services will provide much-needed insights and support to authors while writing.
DITAWriter: How will the product integrate with DITA CCMSes?
Jan Benedictus: Integration has two aspects: one is the integration with the CCMS interface and workflow, which is done by adapting the HTML and CSS of the FontoXML frontend to form a visual unity with the CCMS. FontoXML is typically launched when a user clicks a file in his or her personal workspace within the CCMS.
Under the hood, connections are made based on webservices and API's. We have pre-configured connectors in place for frequently used CMS's like Alfresco and SharePoint, but also Google Drive and Dropbox. Furthermore we have a CMIS connector, which allows CCMS implementers to make services easily available for FontoXML. At a lower level, the API's are fully documented and available and include CCMS services like the opening and storing of XML objects, dialogues for applying links and relations, and access to digital assets such as image libraries.
DITAWriter: As this is a web-based product, how is security handled to ensure that only those with access rights can view/edit content?
Jan Benedictus: A good question. In most cases FontoXML is implemented within the online workspace of a CCMS or portal suite. We following best practices here by using Secure Socket Layer connections and performing so-called penetration tests to seek for vulnerabilities. Most organization have an IT architecture where FontoXML resides within a secured area. The most 'tight' way to ensure is to have FontoXML within an Intranet environment so that access is restricted to those physically working from an allowed location, or who get access through a secure VPN.
DITAWriter: How exactly does a licensing-scheme work for a web-based product like this? (And what browsers can people use?)
Jan Benedictus: Since we aim to serve both SMEs and more frequent editors, we have an "Expert-license" and an "Editor-license". Experts are usually comprised of large groups of infrequent users, so for them we have a concurrent users licensing scheme. So typically 10-50 SMEs share one concurrent users' license, depending of their activity. The editorial teams using FontoXML more frequently are best served with a named license scheme. Licensing is enforced by requiring a username from the CMS when launching FontoXML and keeping track of the number of simultaneous users.
Users can use any major modern browser (Chrome, IE, Firefox, Safari), typically back to three versions from the most current version. Older browsers often work, but sometimes impose limitations that influence performance or user-friendliness. Under our Standard Licensing Agreement we guarantee that FontoXML will work under future browsers. Furthermore, we are constantly looking for new functional possibilities when a new browser is launched, so we can serve early adopters with new features.
DITAWriter: There seems to be a lot of Dutch companies that use DITA. Do you have any thoughts as to why that is?
Jan Benedictus: The Netherlands have always had a relatively strong publishing sector and we have world players like Elsevier and Wolters Kluwer from here. Another ingredient is that in more recent decades, The Netherlands have put a strong emphasis on developing both their IT and Creative Sectors by stimulating both business development and R&D. The resulting innovation has proven to be a fertile ground for developing concepts such as structured content and multichannel publishing.
The Netherlands has a tradition of adopting international standards of all kinds rather than trying to invent its own, and this helps our businesses communicate with others all over the world.
Please visit FontoXML for more information about their web-based DITA XML Editor.