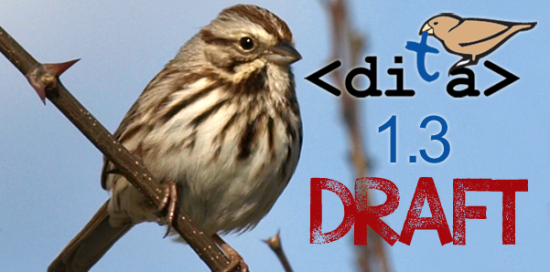 Updated July 8, 2015: added links to individual DITA 1.3 draft packages produced by Titania Delivery and added link to OASIS 30-day review versions.
While the process on how DITA is developed has always been open, and there have been some good presentations and articles on what to expect, up until recently those who were not members of OASIS have not had access to the full draft version of the specification.
Thanks to Oberon Technologies's partner Titania Software and Suite Solutions that has now changed, as each of these DITA tool vendors are showcasing their DITA-based web output software by with a publicly-available version of the latest draft DITA 1.3 specification:
Oberon Technologies' partner Titania has produced version of each of the three "packages" for the DITA 1.3 draft, which can be found at the following links:
Some caveats:
DITA 1.3 is currently (as of July 2015) a draft, meaning that the details are still being worked out, so what you see here is subject to change. Until August 7, 2015 the DITA 1.3 draft documents are available for public review.
Though this public release has been sanctioned by those developing the specification, the usual official OASIS notices that accompany the release of this type of information are absent.
There are some issues when it comes to how these output engines try to handle the DITA 1.3 DTDs, so the formatting in some sections may be "off". Hopefully this will be fixed over time.
In the meantime everyone in the community now has the chance to look over the draft DITA 1.3 specification for themselves in full. Go to it!