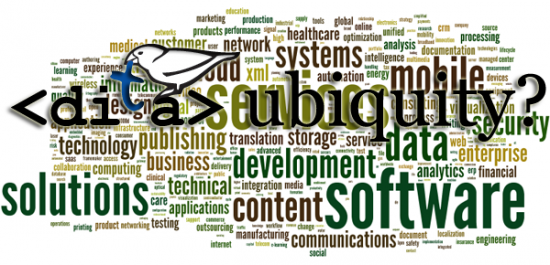 Over the past weekend I worked on updating the popular Companies Using DITA listing and it has reached another milestone: over 450 firms using DITA as part of their technical documentation processes are now listed. The permanent home for this list can be found here.
DITA Ubiquity?
One thing I came to realize as I was doing the research is that there is seemingly no sector that DITA cannot either be used in or adapted to. Whether it's the egg-breaking machines produced by the Dutch firm Moba, Accuray's line of radiation therapy equipment, or describing how to build a new tugboat in the Damen Shipyards, DITA is there. I find it really mind-boggling to see how and where DITA is being used in tech docs throughout a wide variety of sectors, and that in just a few short years it has spread far beyond its initial roots in the software sector to just about any business segment you can think of.
Other new companies added to the listing include those in the financial service sector, utilities and publishers along with additional semiconductor firms, software companies and telecommunication businesses. What struck me is that DITA is becoming ubiquitous in the technical writing world.
To be clear, I'm not saying that every single firm out there is using DITA. Far from it. Job posts asking for DITA skills still makes up a small (though not insignificant) portion of all technical writer postings in the US, and less so elsewhere. But there hardly seems to be a sector where DITA has not found a home. The latest listing has 50 category types, ranging from "Accounting" to "Writing and Editing Services", and now includes "Utilities", "Capital Markets" and "Shipbuilding".
"Success is the Sum of Small Efforts, Repeated"
This quote by Robert Collier I think sums up why DITA—or DITA ways of thinking—is becoming pervasive in the tech doc writing world. There are some things that will always be a factor that will drive companies to consider adopting DITA, especially the need for efficient content reuse and consistency. Its built-in adaptability through specialization has also helped, allowing people to extend DITA's functionality into niche areas. I also believe that DITA's basic simplicity of topic types made it a relatively easy way to enter structured authoring, and whose minimalist writing principles "clicked" with a lot of technical writers. And I think this is why DITA has taken off in the way it has: writers from an initial DITA implementation at one firm over time move on to other companies and bring the idea of using DITA with them. In this way there has been a "cross pollination" of DITA usage outside of the original software sector to ever other sector it has touched. So in tech writing teams where DITA has been implemented successfully we find the seeds for future implementations at other firms.
In this way early DITA adopting firms like IBM, Research in Motion/Blackberry, AMD and others have acted like incubators, with the members of their technical writing teams spreading to an ever-growing number of other firms. This process is definitely not inevitable, as I ran across many cases of people who used DITA at one firm but not at the next company they worked for (or the next one after that). But nevertheless there is a strong correlation between people who had DITA experience at one firm who go on to pilot DITA efforts elsewhere. So what was learned at one firm is carried on to the next, and so on and so on.
It is people who make DITA work, and more often than not it is those same people who cause its use to spread.
The Illustrated DITA
When researching this list I find the individual company listings in LinkedIn handy, as it provides me within information as to where the HQ for a company is located, the business sector they operate in and the number of employees they have. Some of this information makes it into the Companies Using DITA page, and the other information has made its way into a few articles. LinkedIn also provide a list of keywords associated with each firm that they call "Specialities". So I threw all of the keywords for all of the companies listed here at Wordle to see what keywords were used the most. Using the top 350 keyword, here's what came up: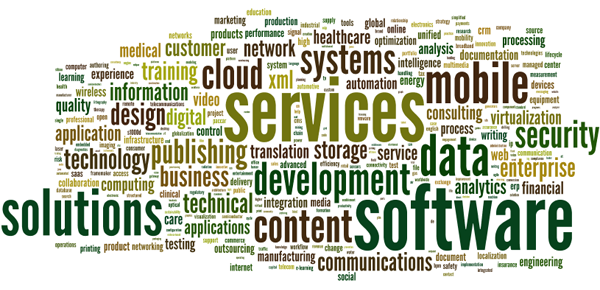 Software and a lot of software-related keywords come out on top (for example "solutions", "systems", "development" and "data") and this isn't a surprise since this is where DITA started after all, but what's interesting is the general scatter of the rest of the keywords emerging from other sectors, such as:
mobile
content
publishing
cloud
technology
healthcare
security
communications
security
translation
business
training
financial
medical
…and many more. This spread becomes more varied the deeper you go. While this word list is still skewed towards the computer software sector, there are definitely signs of the ubiquity and diversity of DITA usage I am seeing elsewhere.
DITA ubiquity? Maybe not yet, but soon? Possibly.