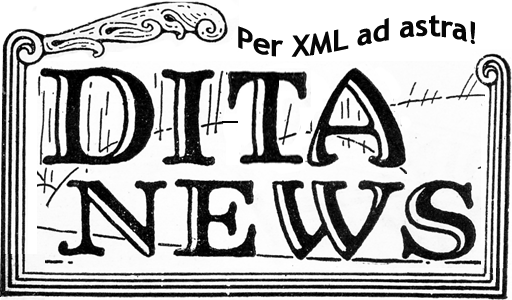 Sometimes there's a flood of information that is DITA-related that happens all at the same time. Today just happens to be one of those days. Here's a quick run-through of some DITA items of note: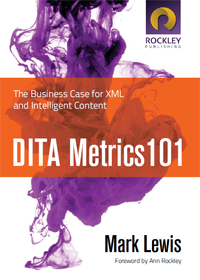 Book Release: DITA Metrics 101
Mark Lewis' new DITA Metrics 101 book was officially launched at the Intelligent Content conference in San Francisco last week. I hope to run an interview with its author on this site soon, to be followed by a book review. At the moment it is only available for purchase from Lulu.com, but I am told it will appear on other book vendors sites (such as Amazon) soon. For more information, see the DITAWriter DITA Books page.
DITAToo's Final Survey Results on Converting Legacy Content to DITA
CMS Vendor DITAToo has released the final results of its survey that looked at how firms are converting their legacy content over to DITA. You can skim through some of its highlights, or read the full report here. Again, I hope to do an analysis of this in a future article here.
Survey: Following the Trends – is your content ready?
Speaking of surveys, the folks at CIDM and DCL are trying to understand how companies content delivery strategies are being impacted by the latest trends in technology. They would like to know more about how the changing requirements for delivery are affecting your business today and how you anticipate those requirements will affect your business decisions in the next few years. As an added incentive, they are offering a draw for a $100 American Express Gift Card for those who complete the survey. Here a link to the survey.
DITA per Day Blog Launched by Don Day
DITA guru Don Day (dare I call him the "Father of DITA"?) has just launched a new blog called "DITA per Day". As he says on the site, it is dedicated to "sharing my perspective on the standard, whether in explaining my own take on element usage or giving some insight on how certain elements or features came to be". Currently there are four posts, which look at <dita>, <map>, <title> and <topic>. Definitely a site to bookmark and keep an eye on.
oXygen Editor Updated to 14.2
It's a point release, but there are a number of significant updates in the updated version of oXygen, including:
Complete support for XML Schema 1.1
A "Review Panel" which seems to be a Track Changes-like function
The ability to share dictionary additions at the project level
Edit MathML equations using MathFlow in Eclipse
Author mode now directly supports input for Chinese, Japanese and Korean characters
SharePoint support in the DITA Maps Manager
…and plenty more. Full information can be found on oXygen's What Is New in XML Editor 14.2 page.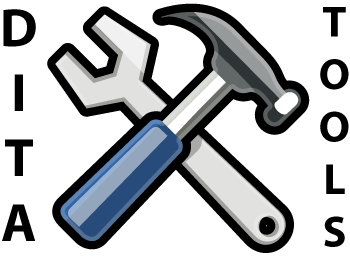 DITAWriter.com Site Updates
I have been updating a few things here and there on the DITAWriter site of late:
Pictures from the Last Intelligent Content Conference
Just ran across this page on DJ Cline.com, which contains shots of the people who presented and attended the most recent Intelligent Content conference in San Francisco. It's great to put names to faces, and it is clear from some of the candid shots posted that people had a fun and interesting time there. Now if only we can convince those holding these conferences to record and post online videos of some of these presentations…
Happy Valentine's Day everyone!