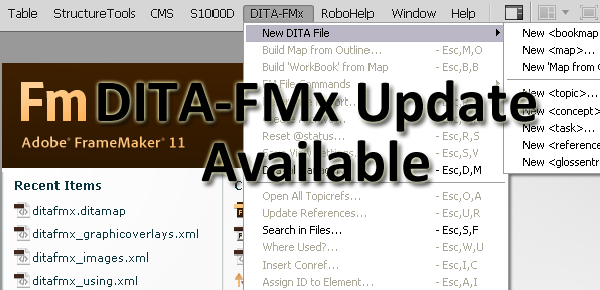 I don't normally report on "dot dot" releases here, since the changes to any program at this level tends to be minor, but when it has been almost a year since the last significant update, I figure it is worth a mention here. On November 23rd Leximation released an update (v.1.1.17) to their popular FrameMaker plug-in for DITA, DITA-FMx.
For those unfamiliar with the program it is a set of plugins designed to help people work with DITA inside FrameMaker. It supports features within the DITA 1.1 specification and FrameMaker versions from 7.2 all the way up to 11. It was last updated almost a year ago (December 1st, 2012), so if you have a license for the program you might want to check on the availability of this release to you.
New features include:
new file name building blocks and modifiers added
book-build option to modify the variable prefix added
option to preserve table widths also added
…plus numerous bug fixes. You can find a full list here.
Individual licenses are available for $235 U.S., with site licenses (up to 25 users) available for $3525 U.S. You can also try before you buy, and all documentation on the product is available for perusing beforehand.