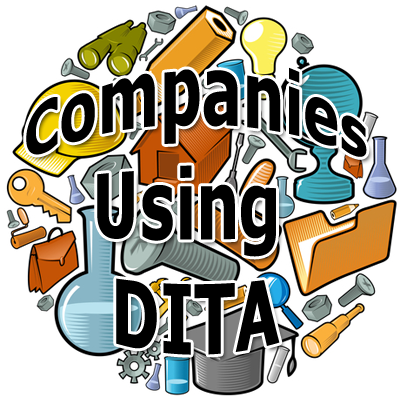 What originally started out as a modest project just over a year ago to find out which companies are using DITA for their technical documentation has evolved over the past year to become the most comprehensive listing of all-known firms that are implementing DITA. If you are using DITA XML, know you are far from being alone in doing so: this update brings the total to 367 companies/organizations, and without a doubt there are many more out there. (Here's a link to the list, which is always available at: ditawriter.com/companies-using-dita/).
The information comes from a variety of sources, including conference listings, customer references by CMS manufacturers, people emailing directly saying that they are using DITA XML in their documentation process, and other online sources.
Ever since the last major revamp I have been adding other firms piecemeal to the list, but here is a short list of some of the additional firms that have been added since the last incremental update (and the industry sectors that they belong to):
Baker Hughes (Oil and Energy)
Brion (Semiconductors)
California Casualty (Insurance)
CareFusion (Medical Devices)
DAF Trucks (Automative)
Demandware (Retail/POS)
Edifecs (Computer Software)
HEBCO (Aviation and Aerospace)
Luminex (Biotechnology)
ngmoco:) (Entertainment)
Océ (Printing)
Siemens Healthcare (Hospital and Health Care)
As you can see, there is an interesting spread of the types of companies that are using DITA.
What's Next?
When compiling the updated list I also revamped the company types and dug out additional information on the sizes of the firms that are using DITA. I found the results surprising, and over the course of the rest of this week I'll be revealing some of the details I found and sharing them with you on this site, so keep checking back for information over the rest of this week that will look at:
where DITA is being used
The types of companies and organizations using DITA
the size of the companies using DITA
Expect updates later in the week!