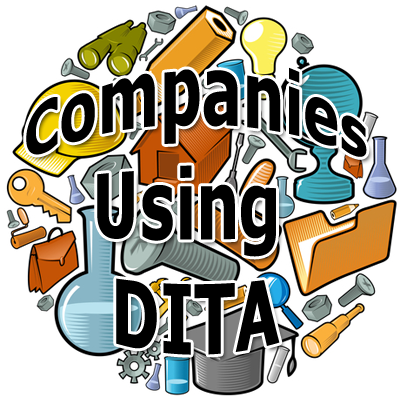 Today I am pleased to say that the Companies Using DITA listing has now hit a total of 400 firms and organizations world-wide that have in some way publicly-stated that they are using DITA XML in their documentation efforts.
The information comes from a variety of sources, including conference listings, customer references by CMS manufacturers, people emailing directly saying that they are using DITA XML in their documentation process, and other online sources.
Much like the last major revamp I did to the listing back at the beginning of the year I have been adding additional firms piecemeal to the list, but here is a short list of just some of the additional firms that have been added since the last incremental update:
Akamai
Altera
Carestream Health
Cassidian Communications
Cook Medical
Grant Street Group
Intermec
Landmark/Halliburton
Prima Power
Tata Motors
Thomson Reuters
If you are using DITA at your firm or organization and do not see it on this list, please let me know and I will add it.
Additionally, I am always interested in hearing how people are using DITA in their work, and if you are interested in an interview to discuss more about how you are using DITA, please ping me to discuss it.