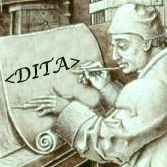 All too often — this blog included — articles and papers advocating tech writing teams to move to DITA are aimed at management. This makes sense since if the tech writing team is larger than one person there are change management issues to coordinate when moving from a previous toolchain to DITA, and if a Content Management System is involved as well, budgets need to be allocated. But rarely does anyone talk about what, if any, benefits there are to the writers when moving to DITA. Here are my thoughts:
DITA is a Good Career Move: as more firms implement DITA XML having this skillset on your resume only broadens the scope of the job prospects you can apply for. Though we are arguably past the pioneering days of DITA, it is still a skill that few people have more than a few years experience with. Speaking as a tech writing manager, I've now had two people "scooped" from my team by other firms looking for tech writers with DITA experience.
DITA Makes You a Better Tech Writer: the non-narrative, structured approach that writing in DITA demands means that tech writers have to be more deliberate when composing their content. In my experience I have seen the quality of docs improve significantly as missing concepts are added, tasks broken down to more discrete steps, and references refined to their essence.
DITA Writers Become DITA Editors: both of their own material and of others.  If a minimalist writing style is emphasized, tech writers are asked to further pare down their topics to their essentials. Not only does lead to more readable topics for the end-user, but the tech writer becomes more critical of their own writing style. Also, if the DITA implementation emphasizes reuse, tech writers need to put on their editor's hat to ensure that topics written by others "fit" the needs of the current document. If done properly, the result makes the topic more generally usable. Tech writers therefore get to see more of each other's work and look at it with a critical eye.
De-siloing Means More Diverse Writing Projects: As already mentioned, as topics get reused within a writing team, the other writers get to see (and edit) their colleague's material. As they get more familiar with what others are writing, the team becomes less and less siloed over time, meaning that tech writers get more of an opportunity to expand their scope of expertise. I also think this makes the job more interesting to the individual tech writer, as de-siloing means you get to learn more and broadens the scope of your knowledge. (And dare I say: "more fun?")
DITA XML + Open Source Tools = Learning Opportunities: Downloading and playing with the Open Source Toolkit is only the beginning of the learning experience for many tech writers. In addition to learning the basics of XML and structured authoring, those who want to dig further into the mechanics of the process can tinker with things like XSL, ant and Java. One step removed from that and text processing scripting languages like Perl and Python beckon, especially if you want to do things like batch changes or corrections on content. Depending on how things are set up, other learning possibilities include CSS, BIRT and Schematron. The open nature of DITA means that there are a lot of associated tools out there that can be applied to your content, and how much you learn about them is limited only by your ambition. In my experience any technical writer who picks up these additional skills only makes them more valuable, and definitely makes a resume more compelling for a hiring manager.
These five points are the most obvious ones to me, but if I have left anything out please let me know in the comments section.